How you're wired matters… and you need to understand it if you're going to live out your great responsibility.
When I was a kid I was part of the Boy Scouts. Every year we did the "Chicken Creek Hike" (yes, I grew up in the south). One year, after going on the hike for the past 3 years, it was my turn to lead the hike. It was a weird feeling because I hadn't paid a lot of attention about HOW we got to the destination on my previous hikes. I just followed the leader.
But this time, I was the leader. And I wasn't sure where I was going.
Do you know where you're going?
You can't lead others to be healthy, unless you are healthy.  You won't be able to lead others, until you lead yourself – and I'm sure you know, that' not as easy as it sounds.  We are complex creatures.
God made us beautifully complex from the moment of creation.  Unspoiled by sin, I'm sure Adam and Eve were a wonder to behold.  I wish I could have known them (someday I will).  But when sin entered the picture it twisted their (and our) beautiful complexity into a mess that is itself complicated beyond recognition. Emotional instability, mental illness, birth defects, personality issues, and many more such things are examples of what sin's presence in the world has done to us.  Because of that fact, every one of us has been tainted by sin's far-reaching effects in multiple ways, from the inside out.
THAT is a big part of why it's extremely difficult for us to take responsibility for ourselves.  
We are broken in ways beyond our comprehension, but nevertheless are called by our Savior to be responsible stewards anyway.
That's the starting point for this website & everything I have to say.  You are probably here because you want to build a Christ-centered home: to have a healthy, Christ-honoring marriage, to see your children love the LORD with all their heart, soul, mind, and strength, to extend His kingdom through your family.  But before we can go there, we have to understand this:  we don't have a chance of creating Christ-centered homes unless we learn how to be Christ-centered, healthy individuals first.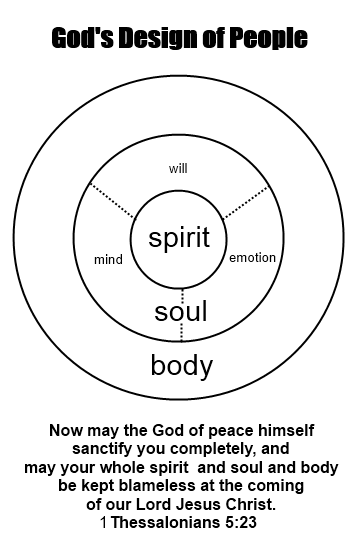 If you are going to be a good steward of yourself, then you need to understand yourself as best you can.  You, and everyone in your home, are created by God in a "triune" sort of way (sound familiar?). You are made up of body, soul, and spirit.
Yes, I know there's been an ongoing debate through the years about whether man is made up of two parts (body and soul) or three parts, as I've suggested. I'm not going to get into all that, for two reasons.
1) There are plenty of other, wonderful resources where you can find information on that debate.
2) I'm personally settled on the issue after years of study. I truly believe the scripture clearly teaches that God has made us with body, soul, and spirit (1 Thessalonians 5:23). So I'm going with that…
What do I mean by body, soul, and spirit?
The body is obvious, it's the biological shell that houses us as we walk planet earth. It requires nutritious food, adequate rest, and sufficient exercise in order to do its job.
The soul is an intangible part of us that is comprised of mind (our ability to think), will (our ability to choose), and emotions (our ability to feel).
The spirit is also intangible and is the part of us that discerns, understands, and applies truly spiritual things.  The spirit of the Christian communes directly with God, and grows into Christ-likeness over time through the sanctifying work of the Holy Spirit (Romans 8:14, 1 Corinthians 6:11).
It sounds neat and tidy the way I've just explained it, but it's not.  The three parts of man are woven together in intricate ways that will forever remain a mystery to us.  But for our purposes it is helpful to recognize these three parts of who we are.  Each of them is an area of our own lives over which God has made us stewards. In other words, we are to rightly manage and care for every part of who God has made us to be – body, soul, and spirit.
Personally, I have traveled far too long on the road of life without a balanced and right awareness of my responsibility in each of those areas. At any given time, I have excelled in maintaining one, or in good seasons possibly two of them, and ignored the other(s).
As God has shown me the importance of being healthy in all three areas, He's brought a deep conviction to my heart, and has convinced me that I need to pass those convictions on to others who are willing to learn, listen, and apply them to their own lives.  My prayer is that you might be one of them.
I said all that to say this…
It won't take you long to notice that in every area of this website, the theme of good stewardship in all 3 of those areas is emphasized repeatedly. To use a modern phrase, I'm addressing the health of the Christian home and family in a "holistic" way, which should be nothing new, since it's how God has always seen us and dealt with us. In approaching your life and home in this way, I'm encouraging you to take Paul's words seriously when he says, "So, whether you eat or drink, or whatever you do, do all to the glory of God." (1 Corinthians 10:31).
In the pages of this website, I cover areas that seem natural for a website focusing on the Christian home and family – marriage, parenting, communication, etc.  But I will also write on things that may not seem to fit that topic as naturally – nutrition, exercise, education, etc.
The reason?
God intends our lives to be integrated, not segmented or compartmentalized, and the stewardship of our lives needs to be carried out in light of that truth.
So, as we wrap up this post, prayerfully and seriously consider:
You are body – physical, with physical needs.
You are soul – emotional, mental, willful, all which have their particular needs.
You are spirit – able to relate to God in deep, meaningful relationship.  Your spirit has its distinct needs as well.
And here's the kicker – you are RESPONSIBLE before God to steward each of those areas well.

Q: What difference does it make to you that you are body, soul, and spirit?
Q: How can you better steward yourself (and consequently, your family) in all 3 of those areas?
by