Of the 3 parts of man: body – soul – spirit, spiritual health is the area that most affects the rest of life.
Spiritual health: My story
My mother was already a faithful church goer the day I was born, and she still is today (she turns 84 the year of this writing).  I joke sometimes that I was born right into the sin and degradation of the church nursery!  No joke, I was in the church nursery the first Sunday after I was born.
The church we attended was an "Independent, fundamental, Bible believing, King James Only, women don't wear pants" kind of Baptist church.  To say it was conservative is an understatement.  Thankfully, our church leadership was rabid about spreading the gospel, and I heard it clearly presented every week.  By the time I was 5 years old, I had placed my faith in Jesus.  I was very young, but the grace of God isn't hampered by the age of the one He calls.
Growing up in that type of church, I learned all the Christian jargon and practices early on.  I learned to address the adults in the church family as "Brother" or "Sister" so-and-so.  I could give the right answers in Sunday School, could find the book of Hezekiah in my Bible (you try it, I dare you), and participate in "sword drills" right alongside the best of them.  I went to church camp every summer once I became of age.
But one thing I didn't develop early on was a sense of intimacy with Christ.
Maybe it was my youthful perspective, but church seemed to be about rules, and learning to be good, and "winning souls."  I was expected to learn and practice some very good and needful things, like prayer, and Bible reading – but the connection between those things and spiritual health were never made, at least not in a way that I understood.
By the time I hit high school, I was not much different than the average kid in my mid-sized, Texas town.  I was "good," but not necessarily because of Christ.  Under the surface I was asking vital questions about my faith.   "Is this all there is to Christianity?  Rules?  Trying harder?  Being good?"  I knew in my heart that if that's all it was, I couldn't do it.  I didn't have it in me to pull it off, and I wasn't sure I wanted to…
In spite of all that, God was very gracious.  By the end of High School He had placed a handful of significant people in my life who seemed to have vibrant relationships with Jesus, and that gave me hope that perhaps there really was more to the Christian life.  In college, I got involved in campus ministries that began to turn on some of the lights for me, making the connection between spiritual disciplines (bible study, prayer), and true relationship with Jesus.  Spiritual health was finally making its way onto my radar, and I began to experience the reality of Jesus in new, life-giving ways.  Praise Him for His faithfulness!
As I began to truly grow in my faith, one thought came dominantly to my mind, first as a hunch and later as a truth.  Here it is:
Every issue that I face in life is really an issue of spiritual health.
It doesn't matter if it's financial, physical, emotional, relational, or practical – every issue is really a spiritual issue.  That means that the degree of spiritual health I am experiencing at any given time will directly determine how I manage or handle the issues that touch my life.  If I'm in good spiritual health, walking daily and vitally with the LORD, then I'll be more likely to handle those situations with His grace and strength.  If I am not in good spiritual health, then I don't have much hope of handling the situation in a way that honors God and does what is right.
Spiritual health: Your story
The first thing I encourage you to assess and address is your spiritual health.
As I said before, you can't expect to build a home centered around Christ if your life is not centered around Him first.  How healthy are you, spiritually speaking?  As a Christian (Christ-follower), it is imperative that you be closely connected to your Master at all times. He is your rock, your center, your life, your power for living. Those are not just church-speak, they are statements of divine reality.  Without His divine person abiding in you, in an "at home" sort of way, you will experience a continual frustration to be healthy as a person.
Jesus taught these truths by using an image common to the people of His day… a vine.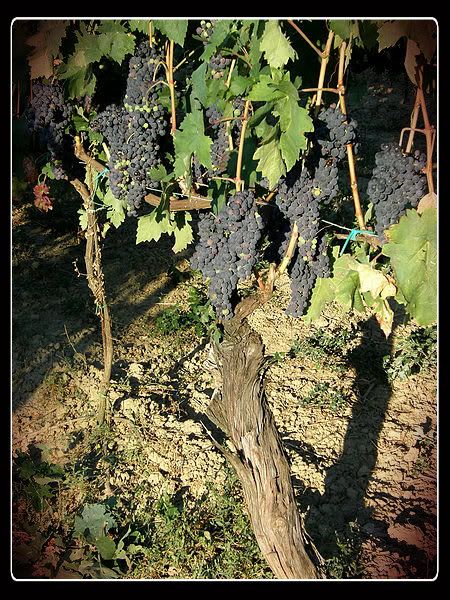 Abide in me, and I in you. As the branch cannot bear fruit by itself, unless it abides in the vine, neither can you, unless you abide in me. I am the vine; you are the branches. Whoever abides in me and I in him, he it is that bears much fruit, for apart from me you can do nothing. – John 15:4-5
Notice two of the clarifying phrases that Jesus uses:
Abide in me (translation: "stay closely connected to me")
Apart from me  you can do nothing. (translation: "without a vital spiritual relationship with me, you're done")
This is a classic "if / then" statement.  IF you abide in Jesus, THEN you will bear much fruit in your life.  IF you do not abide in Jesus, THEN you can do nothing.
When Jesus says that apart from Him you can do nothing, He's not saying that there's absolutely no way you can function in this world when you are not close to Him.  You'll still breathe, you'll still walk through life, and make decisions, and speak to people, and accomplish things.  But you won't be able to do anything of lasting, spiritual significance, things that are "much fruit" in Jesus' eyes, apart from walking closely with Him.
That's talking about spiritual health.
So let me ask you again, how is your spiritual health? Can you see evidence in your life, the "much fruit" Jesus spoke of, that shows you that you are walking closely with Him?
Your Spirit – Before and after Christ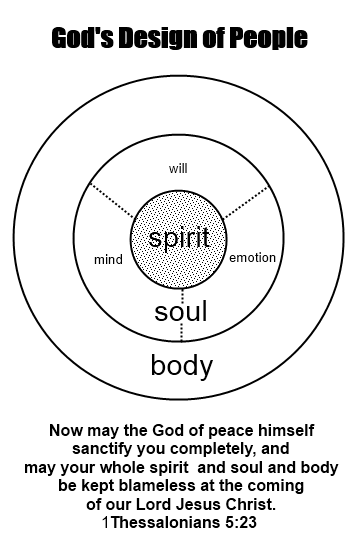 Before you came to faith in Christ, you had a spirit, but it was dead (Ephesians 1:2-5; Colossians 2:13; Ephesians 5:14; 1 Peter 3:18). Practically, that means that before God graciously reached out to you through the enlivening work of the Spirit, you were unable to commune with Him at all (1 Corinthians 2:14). You simply functioned out of your mind, will, and emotions without much true awareness of Him.  Dead people do not speak, act, or respond – and spiritually you were dead.
When Christ awakened you to faith through the work of His Holy Spirit (John 6:44; John 6:63;Romans 8:9; Romans 8:15; 2 Corinthians 3:16-18), your spirit came alive, you were "born again" (John 3:3). Being awakened by the Spirit, you were able to respond to God's grace, revealed to you in the person of Jesus Christ. You recognized your need for rescue from your sinful state, and saw that Jesus is the Savior of sinners. That was the moment of faith, the moment of your conversion.
Once God's Spirit comes into your life and raises your spirit from the dead, you embark on a journey you've never known before. For the first time you have more to concern yourself with than only body and soul – you are body, soul, and a new-born spirit. You are a new creation (2 Corinthians 5:17; Colossians 3:9-10), alive because the Creator Himself now dwells within you (Colossians 1:27;Galatians 2:20).
That is the point where the vine and branch illustration comes to the forefront. As a person who is trusting in Jesus, you have a divine resource you never had before – the Holy Spirit of God, living inside you in a very real way. It is through the Spirit that Jesus lives in you, and desires to live through you. He is your life, your source, the well from which you are to draw, day after day.
Like any new life, this new life needs nourishment if it is to survive.
The things you've heard all your Christian life are true – you do need to read the Bible daily. You need to learn how to pray. You need to spend time with the Lord, as you would in any relationship. On the resources page of the website, you will find tools to help you with the practical, day to day task of keeping your faith strong and your relationship with Christ vital, including a 19 session "Spiritual Growth Notebook" I compiled years ago. Feel free to download it… it's free.
Over the years, Mindi (my wife) and I have come to believe that most personal problems we have, whether they be emotional or mental, start out on the spiritual level. When you are walking closely with the Savior, drawing from His strength day to day, the difficulties of life don't affect you in the same way they once did. You find yourself possessing strength and stability you didn't have previously. I'm not saying life's suddenly easy or perfect.  I am saying that you now have the means by which to live out a successful Christian life, because the only one who has ever lived that kind of life (Jesus) is now living within you.
Spiritual Check-Up
If you go to your doctor for a physical, he'll use a stethoscope, tongue depressor, a blood-pressure cuff, and various other tools to measure how your body is functioning at that moment. By doing so, he makes an estimation of your overall physical health.
When it comes to assessing your spiritual health we have no such tools (wouldn't it be nice if we did?). To gauge spiritual health, you'll have to do a more subjective evaluation, which makes the process more difficult. Jesus said that it is "out of the heart" that sinful (and good) actions and words come (Matthew 12:24).  I take that to mean that if you want to do a spiritual check-up, you'll have to honestly look at the state of your heart as expressed in attitudes and actions.
Sounds pretty simple, but it's not. That's because there are many things we can easily be objective about, but our own hearts is not one of them. We've lived in our sin-soaked selves for so long that we believe that the way we think and feel is "normal." But in reality much of how we've come to think and feel is based on human wisdom, worldly philosophies, and self-protection, instead of on the truth of God. The Bible calls these old habits of thinking and feeling "flesh" (Romans 8:4-13), or the "old self" (Romans 6:6; Ephesians 4:22; Colossians 3:9).
When we become a child of God through faith in Jesus Christ, we are given a new heart, but our old habits of thinking and feeling linger in our souls.  The process of Christian growth is all about learning to lean on the truth of God as our mode of operation, instead of the distorted beliefs and feelings we've embraced all our lives.
The reason I point out the existence of the "flesh" that still hangs onto you, is because I believe you're going to need some help doing a spiritual check-up.
You don't see yourself clearly, and you need an objective set of eyes to help you. The first Person you need to enlist as an ally is the Holy Spirit.
In describing the Spirit's role in our lives, Jesus said He is "the Spirit of truth" (John 14:7), our "helper" and "teacher" (John 14:26), and our "guide" (John 16:13). The Apostle Paul teaches that Holy Spirit "leads" us in our Christian life (Romans 8:14), and helps us to understand the things God has done and is doing I our lives (1 Corinthians 2:12). As we specifically battle our flesh, the Spirit directly opposes it, and leads us in the opposite direction (Galatians 5:16-18).  The first thing you should do is adopt a mindset of dependence on the Holy Spirit. Ask Him to reveal things that are keeping you from being spiritually healthy, no matter how difficult they may be to face. Submit yourself fully to His guidance.
Secondarily to the Holy Spirit, you'll probably need the help of a trusted Christian friend. Think of someone who is a devoted follower of Jesus, someone who cares deeply for you and your spiritual health. They should be a person who knows you fairly well and has opportunity to interact with and observe you in a variety of settings. It may be a spouse, a parent, a teacher from church, or someone else – but you need to include another objective opinion in your assessment so that your blind-spots do not remain outside your vision.
Though we can't get specific measurements of your spiritual condition, as the doctor would regarding your physical condition, we can use a handful of practical tools to help in the process. As I mentioned a few paragraphs back, your attitudes and actions reveal much of what is going on inside your spirit, and you are wise to pay close attention to them.
The following questions are based on the Apostle Paul's teaching in Galatians 5:16-26. There, Paul provides two lists – one that details the type of things that we think and do when we are controlled by our flesh, and another that highlights the type of things that we think and do when we are controlled by the Spirit. Use these lists as gauges or barometers, to help you assess the state of your spiritual health.  You don't have to be perfect in any of the areas listed, but you should be progressing in humble growth as you desire to please the LORD.
Give a copy of these questions to that trusted person you identified a minute ago. Ask them to answer the questions as honestly as they can as they pertain to you. I have no doubt that their participation will help you immensely.
Questions for a spiritual check up
(based on Galatians 5:16-26)
Vs. 16 But I say, walk by the Spirit, and you will not gratify the desires of the flesh.
Vs. 17 For the desires of the flesh are against the Spirit, and the desires of the Spirit are against the flesh, for these are opposed to each other, to keep you from doing the things you want to do.
Vs. 18 But if you are led by the Spirit, you are not under the law.
Vs. 19 Now the works of the flesh are evident: sexual immorality, impurity, sensuality,
Vs. 20 idolatry, sorcery, enmity, strife, jealousy, fits of anger, rivalries, dissensions, divisions,
Vs. 21 envy, drunkenness, orgies, and things like these. I warn you, as I warned you before, that those who do such things will not inherit the kingdom of God.
Vs. 22 But the fruit of the Spirit is love, joy, peace, patience, kindness, goodness, faithfulness,
Vs. 23 gentleness, self-control; against such things there is no law.
Vs. 24 And those who belong to Christ Jesus have crucified the flesh with its passions and desires.
Vs. 25 If we live by the Spirit, let us also walk by the Spirit.
Vs. 26 Let us not become conceited, provoking one another, envying one another.
Works of the flesh
Do you have a true desire (not just a feeling of obligation), to live obediently under the leadership of the Spirit of God? (vs. 16-18)
Are you currently engaged in any form of sexual immorality, impurity, or sensuality (vs. 19, 21)? Some possibilities to consider are adultery, sex before marriage, pornography, sexting, sex games, inappropriate flirting, etc. How does this reflect on your ability and willingness to be satisfied fully with the delights of relationship with God?
Can you identify anything in your life that draws too much focus and attention in comparison to the rest of your life and responsibilities (an idol – vs.20)? You might consider your work, career, family, hobbies, recreation activities, entertainment, etc.
Are you practicing any sort of spirituality that focuses on gaining or using spiritual power  for selfish ends (sorcery – vs. 20)? You might consider astrology, health and wealth theology, use of crystals, past life investigations, native American spiritism, use of spells or incantations, etc. These are areas of spiritual dependency not focused on God. What does that say for the health of your relationship with Him?
Are there any situations where you feel a sense of being "against" another person (vs. 20)? Do you have any sense in which you can honestly say you love them, or are your feelings toward them entirely negative? Does God's great mercy on you cause you to consider an attitude of mercy toward that person at all (Matthew 18:23-35)?
Do you find yourself struggling with jealousy or envy toward others (vs. 20, 21)? How does this reflect on your ability to trust God with your needs and desires?
Do you struggle with unrighteous anger (vs. 20)? Consider possible patterns of behavior you might have such as yelling, throwing things, cursing in response to issues, breaking things, and physically or emotionally intimidating or hurting others. What does this kind of anger indicate about whether or not you are resting in God's good will and plan for your life? Who are you really angry at, the person or situation, or God?
Is there any regular pattern of substance abuse ongoing in your life (vs. 21)? Consider alcohol, drugs (including marijuana), pain killers, prescription medications, coffee, sugar, etc. How does dependence on any substance reflect on your willingness and ability to depend on God?
Paul ends this list with the phrase, "and things like these." Are there any additional hang-ups in your life that you feel are detrimental to your healthy relationship with God?
Read the last sentence of vs. 21. What will be the final outcome if your spiritual life is controlled by these kinds of things rather than by the Spirit of God? Ponder the significance of that possibility.
Fruit of the Spirit
Is love for other people a growing part of your attitudes and actions (vs. 22)? If not, what does that say about your awareness of and cooperation with the Spirit of God within you?
Is your life characterized by joy most of the time (vs. 22)? I'm not asking if you are happy all the time, I'm asking if you are able to see God's silver lining behind the clouds of difficult circumstances and live in light of it most of the time? If not, what do you need to do to strengthen your confidence in God's loving sovereignty in your life?
Are you generally a peaceful person (vs. 22)? How could you better draw on the Spirit's strength to rest in Him when difficult situations arise?
Does patience characterize your attitude toward people and circumstances (vs. 22)? What does impatience reveal about your ability to trust God with all things, including people? Do you intentionally lean on the Spirit of God, asking Him to help you here?
Would you describe yourself as a "kind" person (vs. 22), or are you characterized more as being distant, aloof, or non-engaging? As you look at this issue, what is controlling you most of the time, your insecurities or the Spirit of God?
Do you enjoy and look for ways to express "goodness" in life and toward others (vs. 22)? I'm not only asking if you DO good things, I'm asking if you DESIRE to do and be good for the sake of others. Ask the Spirit to reveal what He sees in you.
Are you a faithful person (vs. 22)? To your spouse and family? To your employer? To your friends? The Spirit of God produces a reliable, trustworthy spirit in you as you submit to Him. How would you assess your health in this area?
Are you generally kind to people (vs. 22), or do irritability, harshness, indifference, disregard, or aloof attitudes characterize you?
Does goodness characterize the tone of your life (vs. 22)?  In other words, are you seen by others as a person who loves and does good?
Is faithfulness characteristic of your life (vs. 22)?  In other words, do you keep your word?  Can others depend on you to fulfill your commitments and responsibilities?  Do you live out an active faith toward God?
Are you a gentle person (vs. 23), or does a grim, stern, or even harsh attitude describe you better?
Do you practice self-control regularly in the normal course of your life (vs. 23)?  Some ways to tell… are there any lingering habits that you struggle to break?  Do you "fly off the handle" easily?  Can you say "No" to that tempting dessert when you are watching your diet?
Prayerfully consider these questions, taking the time necessary to truly hear from the LORD about the condition of your spiritual life.  It may seem overwhelming, so break it down into bite-sized chunks.
You can take these steps to process what the LORD has revealed…
Write down "themes" or patterns about your behavior that you notice.
Prayerfully narrow them down to the 2 or 3 "biggies" you believe the LORD would have you address.
Ask the LORD to give you a heart that desires to see His will accomplished in those areas.
Find passages of scripture (maybe from the passage above) that reveal God's will regarding those issues.
Write them on a card to take with you each day.
Use that card to make your focus on those areas a "project" – something you are prayerfully attentive to each day.
Start each day asking God to transform you in those areas.

Q: How are you doing spiritually?
Q: What steps do you need to take to shore up any areas that are lacking?
NEXT POST IN THE SERIES: Do you have a healthy soul? – FF#4
by